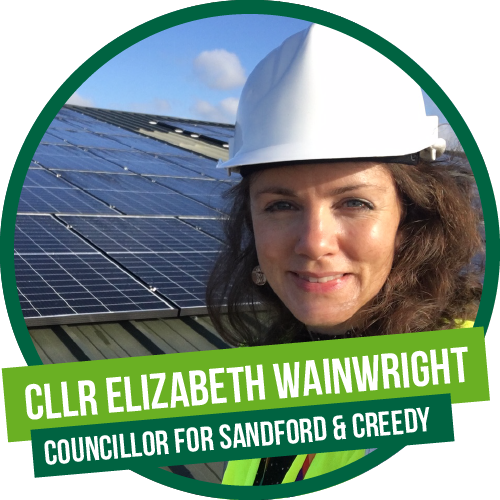 Cllr Elizabeth Wainwright
Mid Devon District Councillor for Sandford and Creedy
Cllr Elizabeth Wainwright is portfolio holder for Climate Change at Mid Devon District Council, and is from Sandford and Creedy area. More broadly, she is encouraging improved community engagement at MDDC. This has included hosting conversations on what town and parish councillors and community members would like to see in Mid Devon's Carbon Plan. 
30 people gave their views on what should be in Mid Devon's Carbon Plan in the first of regular 'climate conversations' facilitated by Elizabeth. Participants included representatives from Crediton Town Council, Sustainable Tiverton, Heathcoat Fabrics, Sustainable Crediton and Exeter Community Energy.
"We discussed what a net zero carbon Mid Devon in 2030 might look like, and some of the opportunities and challenges in getting there. Future calls will be themed, looking at topics like planning, transport, farming, communications and more."
Elizabeth says "The Covid crisis has shown the way that communities can work together, and that measures can be put in place quickly. Now the Green Party argues that this needs to apply to the climate crisis: businesses need more support to adjust to the post-Covid situation and to build a green recovery compatible with climate safety."
Elizabeth is a dot-joiner, and has a background in community development, facilitation and coaching, and is also a freelance writer and editor. She has developed a small international charity, Arukah Network, and is an advocate for the power of communities and listening in creating change. She has lived and worked around the world, and enjoys reading and walking – especially on Dartmoor.
Twitter: @LizWainwright