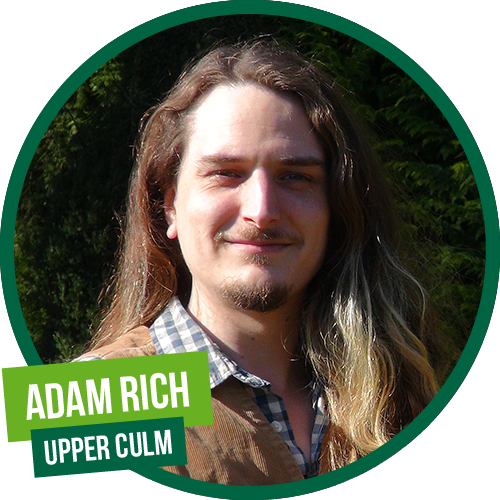 Adam Rich is your Green Party Candidate for the Upper Culm by-election.
Adam has spent the last eight years focusing on community economic development across the region: running and supporting projects and businesses which transition us to a post-carbon economy based on economic equality and environmental regeneration.
Adam co-owns and runs a local business, the New Economy Centre at Selgars Mill near Uffculme. The centre is a worker co-operative which runs residential training courses for local councils and community leaders, organisational retreats, and other events, which address the social crises of our time: economic inequality, youth unemployment, housing, biodiversity loss, the climate emergency and more.
Adam is also director of Stir to Action, a South West based organisation which builds the new economy based on democratic ownership through workshop programmes, strategic economic development, and a quarterly magazine.
Adam says: "Devon is beautiful. The people who live here are kind, friendly and caring. We look out for each other and its a pleasure to live here. We work hard and provide for our own, and we look after our homes and the places we live. But increasingly over the last few decades a dangerous ideal has been growing - the ideal that private profit-driven corporate businesses can provide the basic services that we need. We're seeing our precious NHS, an exemplar to the world, being slowly privatised, we're seeing our local governments turning into corporate services and treating us as consumers. We are not consumers. We are citizens. This dangerous new idea has got to the point where it cannot be tolerated any more - people are getting hurt. Conservative austerity is thought to have lead to the premature death of up to 130,000 people. We're being sold that old idea and being taken for a ride. We don't need to hold on to that idea any more.
While the state continues to shrink and corporate business is failing to meet our basic needs of decent local food, housing and renewable energy, community-led businesses, co-operatives and social enterprise are stepping in. It is both a new idea, and a well-tested one. Let the community provide for itself. We can set up Community Land Trusts to create truly affordable and sustainable housing for local young families struggling to get a home. We can set up community energy companies to generate renewable energy for ourselves. And we can set up food co-operatives to help gain access to the high quality local food that we grow around us.
These sounds like big ideas, but we need to think global and act local. And so we need our elected representatives to understand how an economy really works: its the people providing for each other to meet our needs.
If elected to Mid Devon District Council, I will challenge these outdated Conservative ideas, and I will champion our amazing rural businesses. I will put the people of Devon and our incredible biodiversity first.
Our economy is strong because we make it strong."
Vote for me on 17 June.