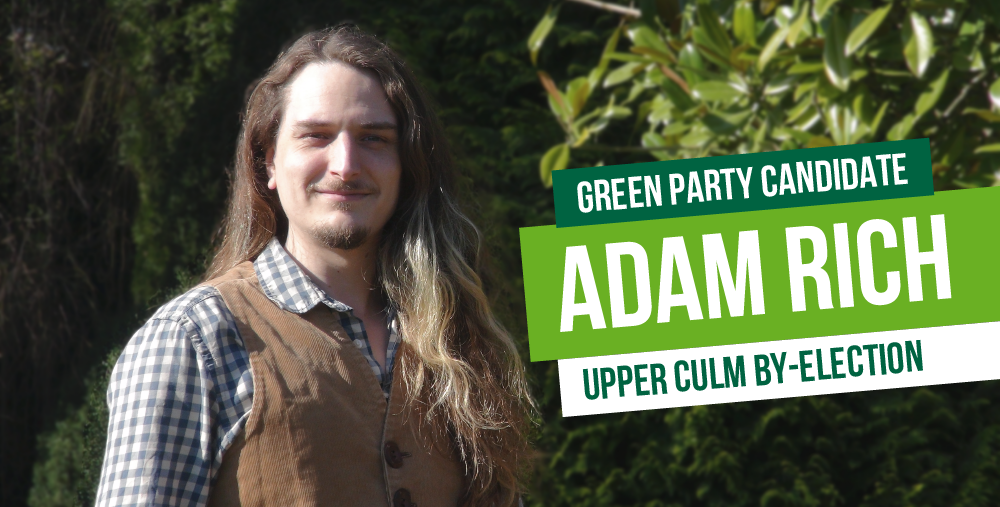 The Mid Devon Green party has announced that Adam Rich will be standing in the Upper Culm by-election, riding on the back of a wave of support for Greens across Mid Devon.
Mid Devon Green Party saw their support surge across the area, increasing as much as five-fold in Cullompton & Bradninch ward and landing them second place in both Tiverton West and Creedy, Taw & Mid Exe wards. Despite the increase in vote share, the results did not return a Green County Councillor.
The Upper Culm district ward falls within the county ward of Willand & Uffculme where Green votes doubled in the election in May, and where Conservative votes dropped 7.5 percentage points.
Mr Rich said "the Willand & Uffculme county ward has been seen as a Conservative safe seat for some time, certainly as long as I remember. These results show that this is no longer the case. Residents here want to see transparency and accountability returned to local government, and they want to see a real response to the climate and ecological emergency. These are things only a Green councillor can deliver on."
Nationally, the Green Party has won 88 more seats in local government compared to Lib Dems' increase of seven. "We're staking the claim to become England's third party," said Green Party co-leader Jonathan Bartley, "and we believe we can make that claim right now. We are the only party making gains in this election besides from the Conservatives."
The Greens more than doubled their representation on Bristol City Council winning 24 seats, up from 11. Mid Devon Greens are looking to follow the national trend.
In 2019, the first two Green councillors were elected to Mid Devon District Council, following a similar surge in Green votes. Previous Green Party candidate for Tiverton West and co-convenor for the Green Party's Education Policy Group, Trevor Cope, said "support for the Green Party is at an all-time high. People across the country are asking for councillors to do more about the climate emergency, and about economic inequality. Local Green councillors like Cllr Elizabeth Wainwright and Cllr Jo Norton are showing the fantastic results you get when you vote for Greens."
Many of the achievements of Mid Devon District Council were put in place by Green Councillor Elizabeth Wainwright's work on the Climate Change portfolio before she was sacked from the cabinet by Leader Bob Deed for not voting for the budget. The position was folded into the Environment Portfolio.
The by-election is taking place on 17th June this year.
For more information on the Adam Rich and Mid Devon Green Party visit middevon.greenparty.org.uk
Contacts: tel 01884 849 307 or adamblakerich@gmail.com